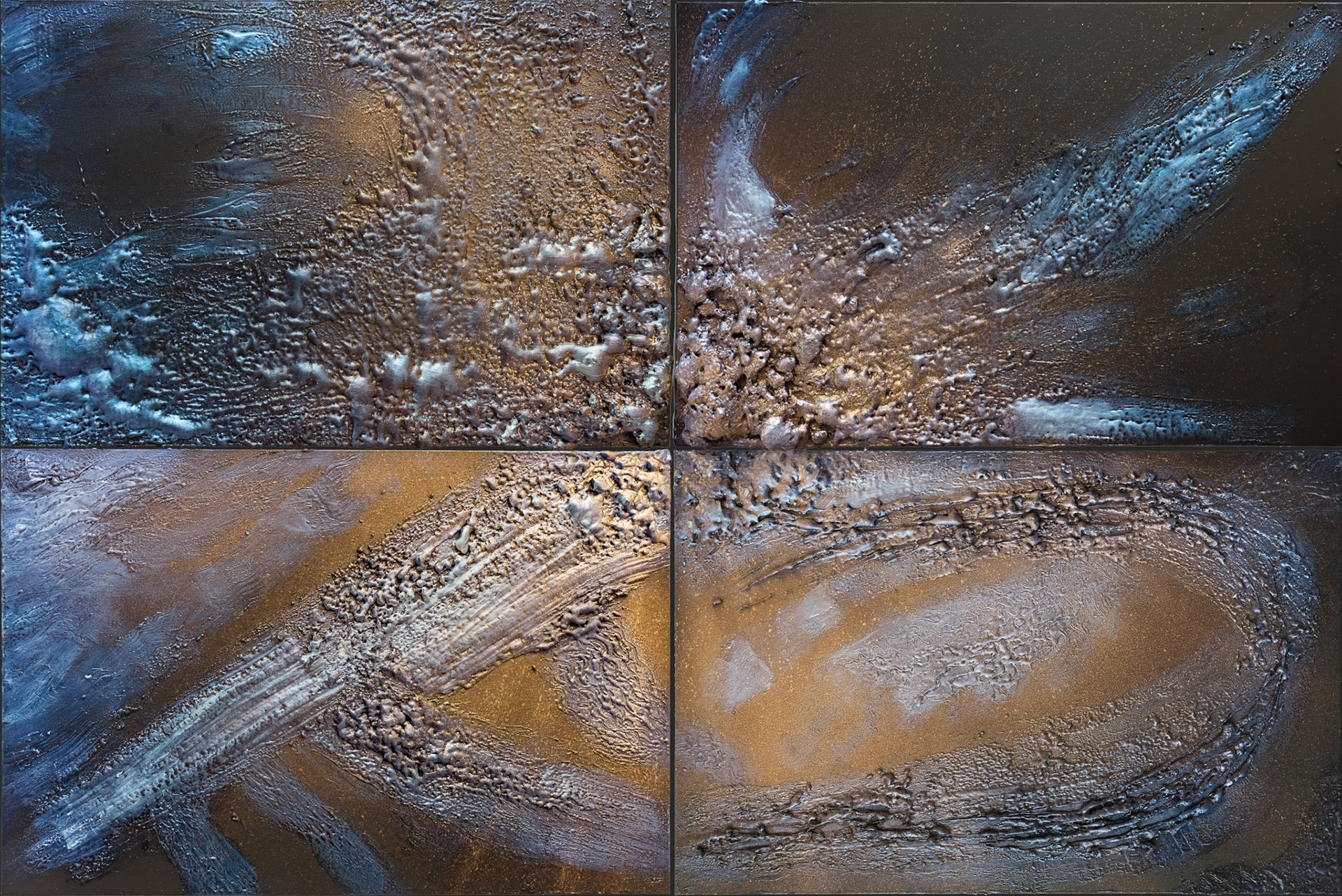 "Origins" depicts the coalescence of primordial elements suspended in dark matter in the penultimate moments before the formation of the first stars and expansion of space. 
To create two different flows, the artists chose to work on 2 canvases each for the initial application of the polyurethane foam to give a tri-dimensional form to the composition.
The resulting effect of the cured foam reflects the different styles and individuality of each artist. A certain synergy and symbiosis permeates throughout the work.
This work was executed using high quality professional grade materials and mediums of professional ranges and done on four 3D canvasses with a depth of 1.3", making framing unnecessary.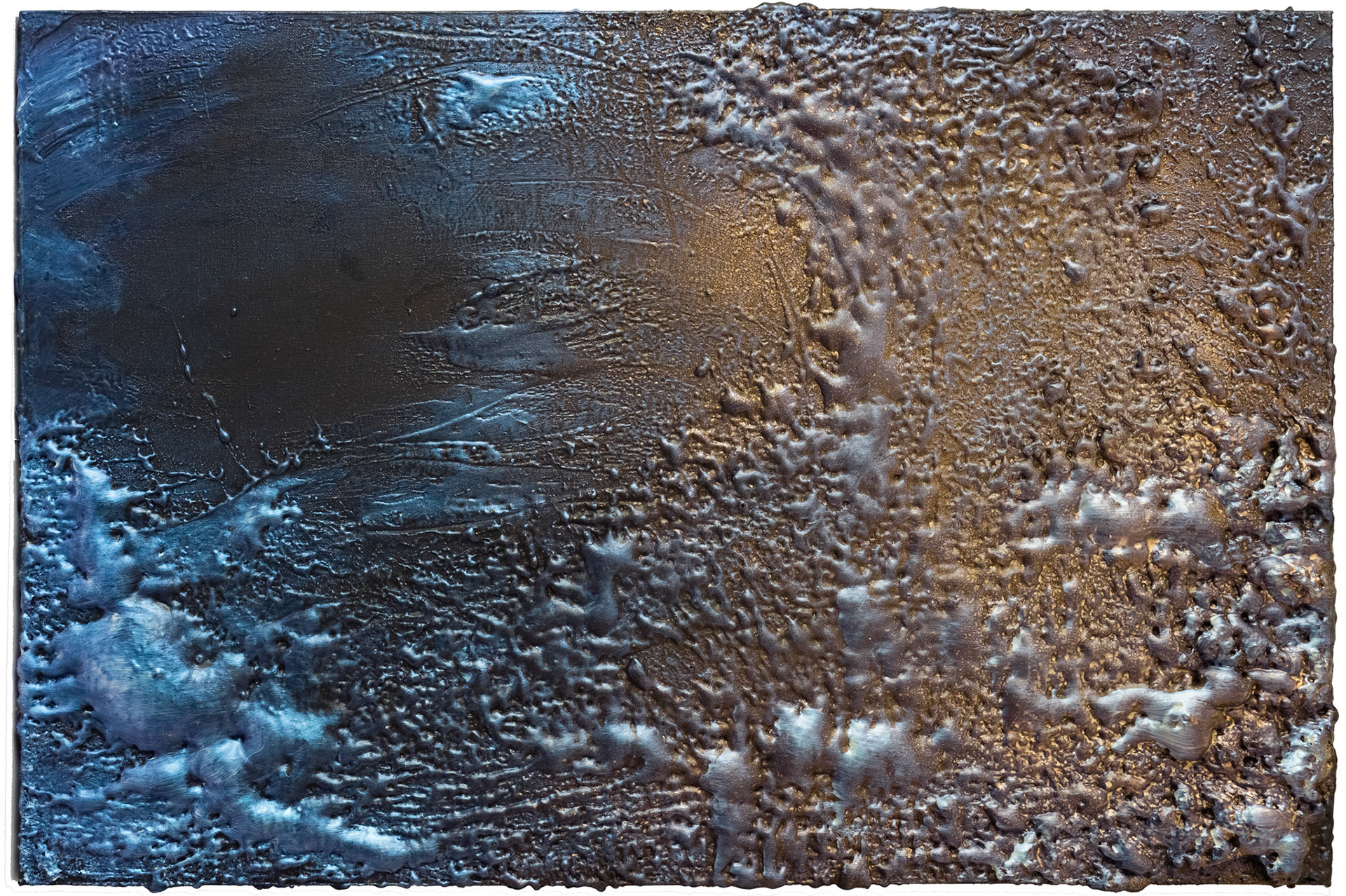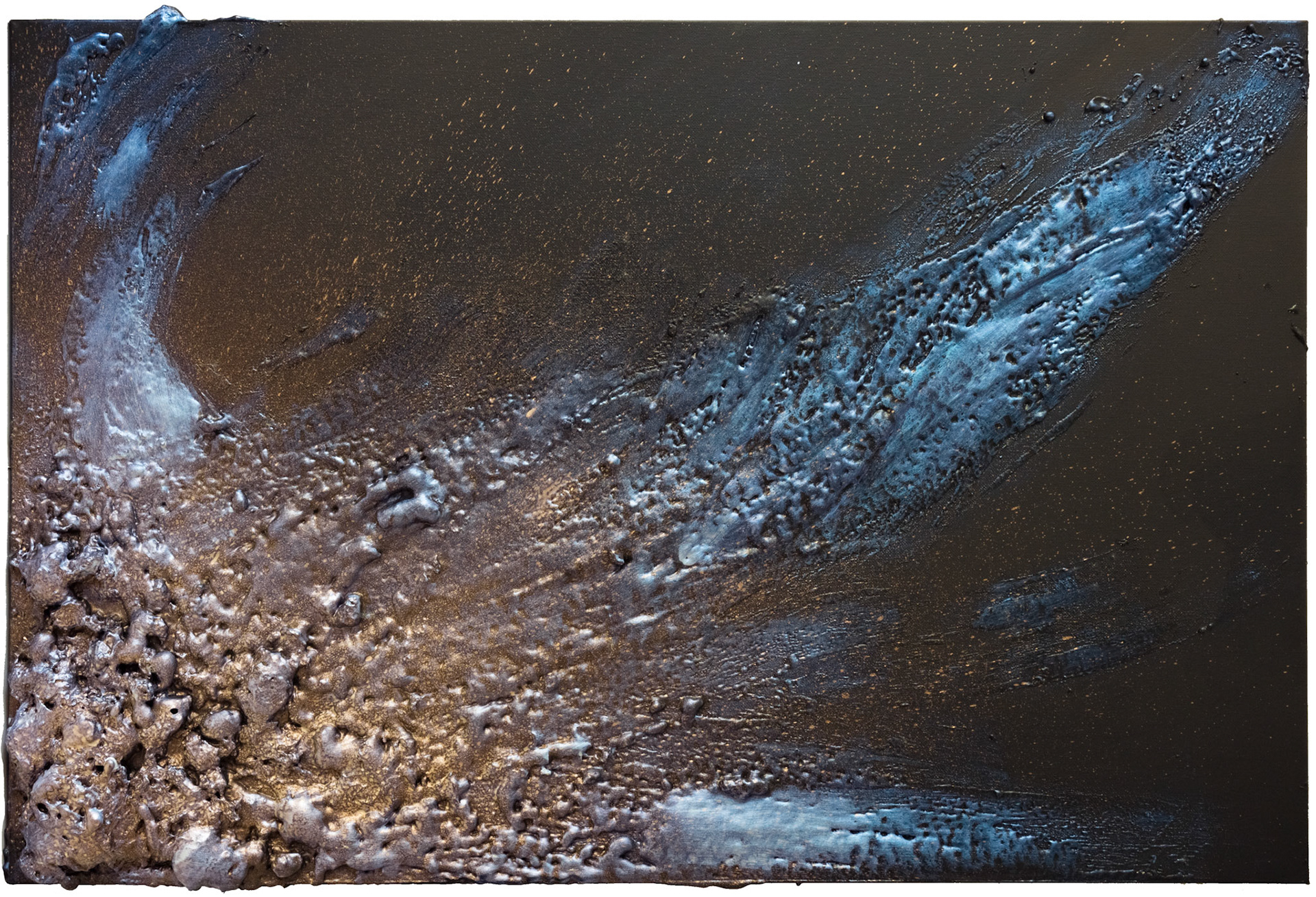 'Origins I' by ELKYMY
Acrylic and polyurethane on 2 canvases
2020
36 x 24 inches each (91.5 x 61 cm)
The artists approached the creation of 'Origins' without conscious intent, the artists to concretise images from their unconscious. 
While the the work was created without conscious intent, it draws from the history of the artists' knowledge of colour theory. This is a result of their experimentation with different types of paint, how colours interact with each other, and the tools and mediums which can alter this interaction. 
While technique and knowledge guides the decisions and calculations they make during the painting process, the main work is done by the transformation, creation, or combination of the materials themselves.
The shaping of foam was executed without conscious intent or a plan and hence is in a sense based on unconscious material. 
The result reveals itself in such power and energy, conjuring up imagery that recalls the creation of a universe and the birth of the first stars and galaxies. 
Because of the connection of the act of painting in revealing images from the unconscious, these pictures have taken on an added dimension - as a bridge between the worlds of consciousness and the collective unconscious.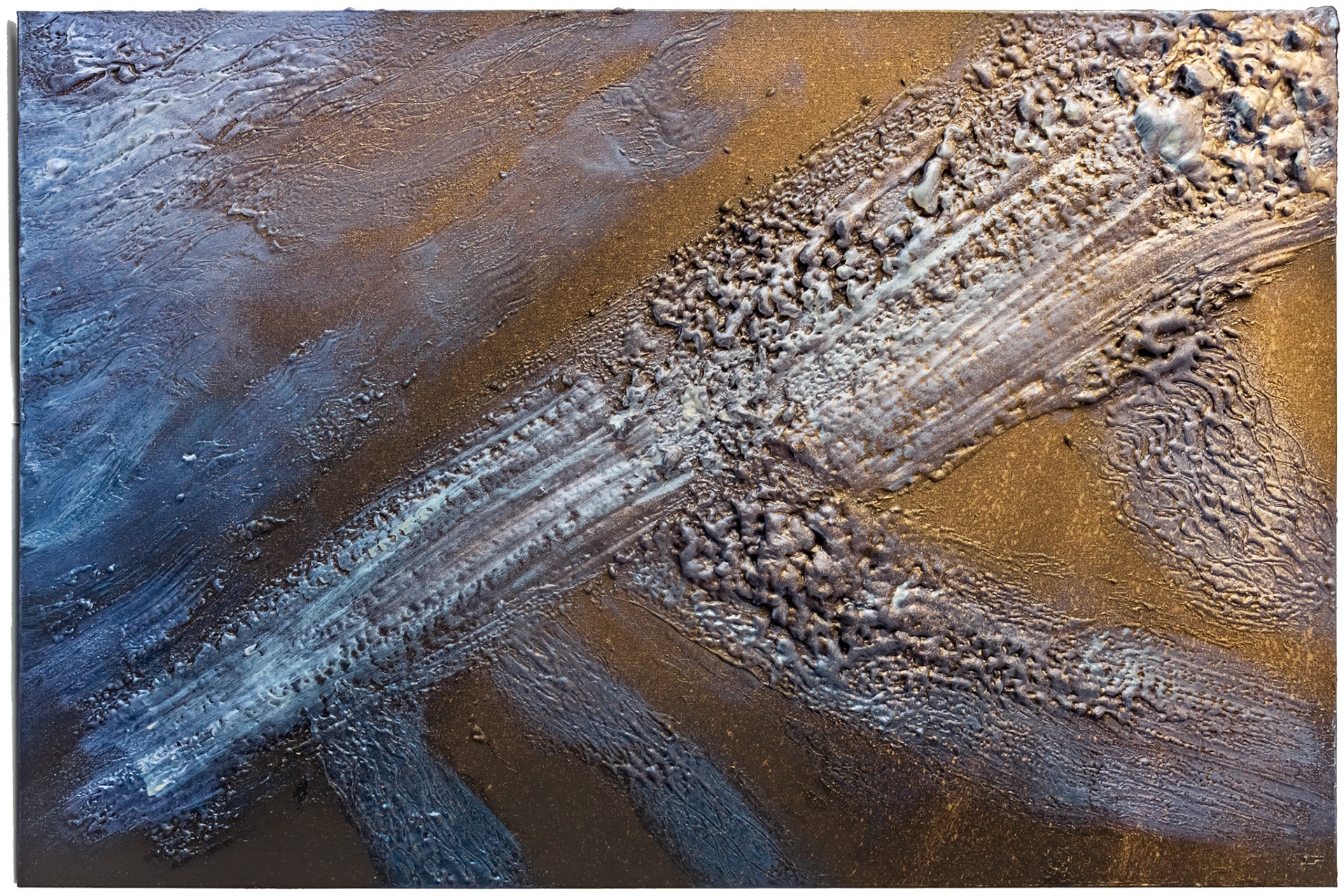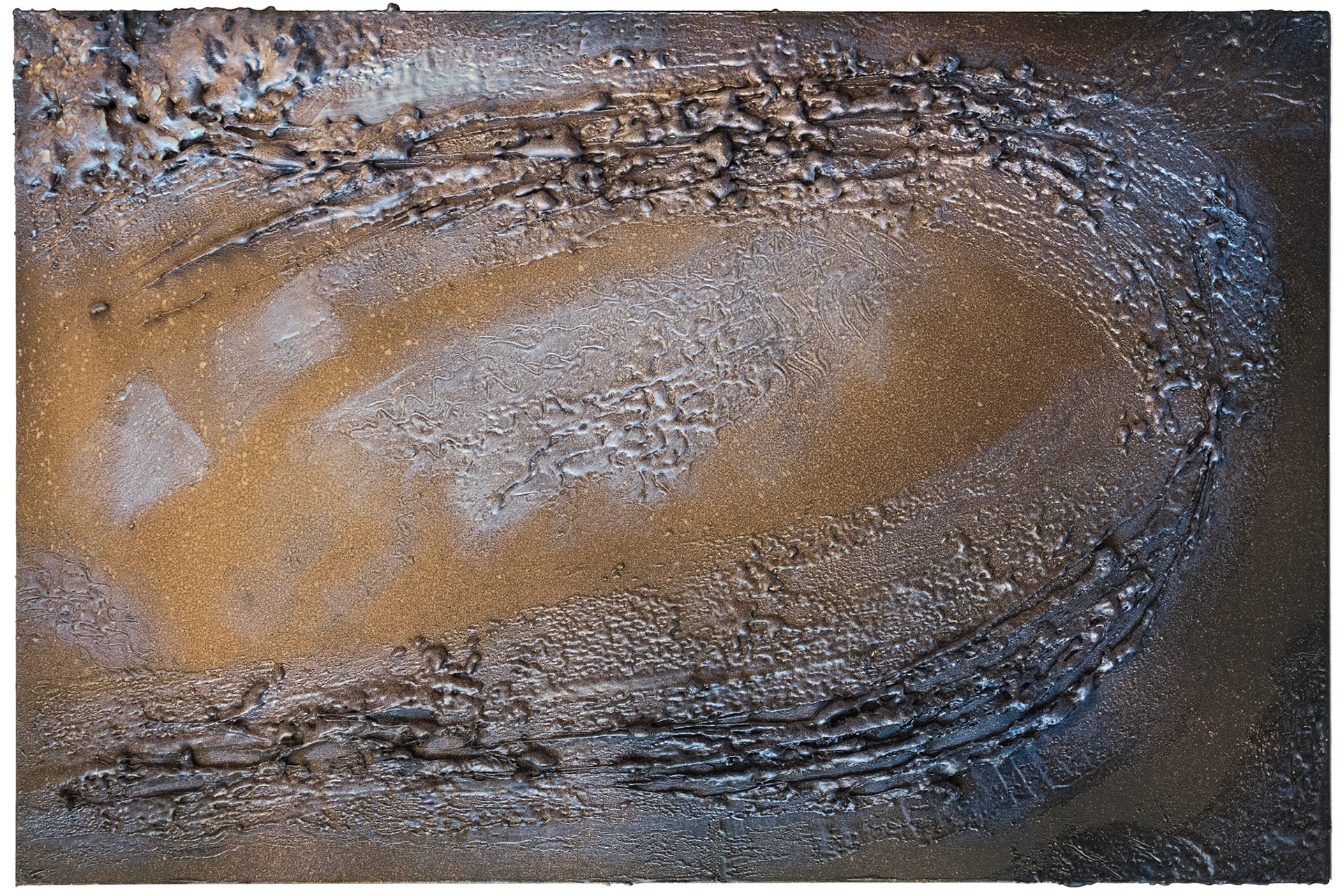 'Origins II' by ELKYMY
Acrylic and polyurethane on 2 canvases
2020
36 x 24 inches each (91.5 x 61 cm)
Luminous layers of transparent interference blue highlight the path of what appears to be a shooting comet. 
An application of a fine mist of interference orange simulates the warm glow of light emitted by particulate elements such as in the dust of a nebula suspended in the shimmering darkness of deep space. 
Overlapping layers of complementary interference colours conveys an overall sense of the ethereal and transcendental nature of space, and barrenness of it's void.